FABC Welcomes Timor Leste as Its Newest Member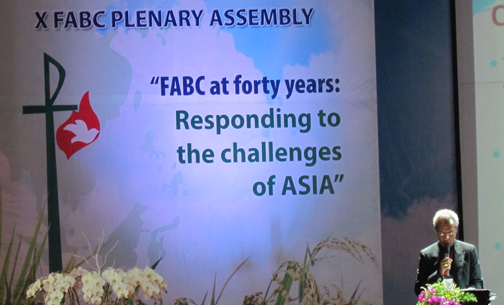 FABC -- The Federation of Asian Bishops' Conferences (FABC), which opened its 10th Plenary Assembly on Dec. 11 in Xuan Loc, Vietnam, has formally welcomed the bishops' conference of Timor Leste as the newest full member of the federation.
Timor Leste previously had only two dioceses – Dili, which was established in 1940, and Baucau, in 1996. However, three dioceses were needed to form a bishops' conference, so Timor Leste could join the FABC only as an associate member. However, when Maliana diocese was established in 2010, the door was opened for this country of about one million people to form its own bishops' conference this year and thereby qualify as a full member of the FABC.
As the youngest member of the FABC, Timor Leste plans to follow and adopt the FABC's pastoral ideas and methodology in responding to the different pastoral realities that the bishops' conference now faces. This new FABC member intends to integrate FABC teachings into its upcoming pastoral plan since the lessons offered by the FABC truly reflect Asian realities and the signs of the time.
The plenary assembly, the FABC's highest governing body, is normally convened once every four years. This year, the federation is celebrating the 40th anniversary of the its foundation in 1972. Under the theme "FABC at Forty Years: Responding to the Challenges of Asia. this year's plenary is being held Dec." 10-16 at Xuan Loc Pastoral Centre of the Catholic diocese of Xuan Loc in Dong Nai Province, east of Ho Chi Minh City.