History of the Catholic Church in Vietnam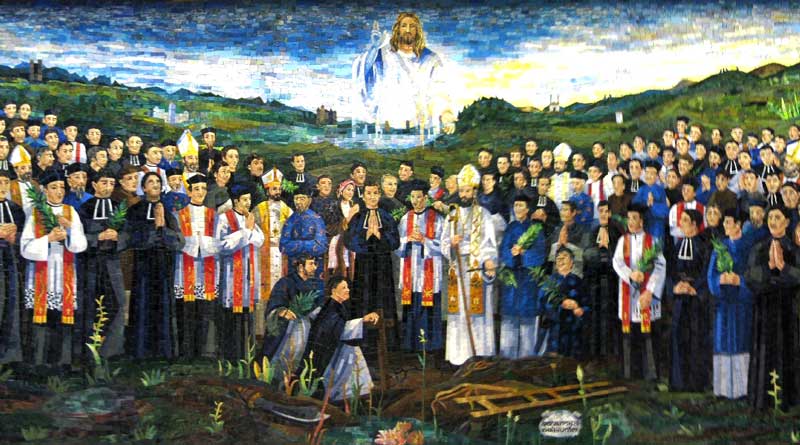 1. The beginning stage of Evangelization in Việt Nam
According to historians, Catholicism came to Việt Nam during the sixteenth century. One of key records, which is used to defend this standpoint, is the book Khâm Định Việt Sử Thông Giám Cương Mục, written under King Tự Đức (1856). That book referred to a note in regard to the decree banning Catholicism in 1663. The note mentions that, in the year of Nguyên Hòa (1533), under the reign of King Lê Trang Tông, there was a missionary named Ignatius preaching Catholicism in secret at Ninh Cường and Quần Anh villages, Nam Chân district (now Nam Định province, Bùi Chu diocese) [1].
So, it is possible to presume that the Gospel had been preached in Việt Nam before the year of 1533. The missionaries have traveled all over the country at that stage. They came from different European countries via neighboring countries such as the Philippines, Malacca, Macao, Japan... They were accompanied by European merchants and belonged to a variety of congregations: Society of Jesus (SJ), Order of Preachers (OP), Order of Friars Minor (OFM) and the Society of Foreign Missions of Paris (MEP) [2].
2. The stage of Trials and Persecutions
The seed of the Gospel was sowed into Việt Nam, along with the new waves of commercial ventures of Europeans. In the beginning, although Catholicism was considered Western religion, it was received in tranquility, even with the curiosity. But then, from the misunderstanding that those who followed western religions would deny their traditional customs as well as not be loyal to the Royal Court any more, the authority promulgated decrees banning Catholicism. The persecutions have broken out with innumerable arrests, imprisonments and killings throughout four centuries, under three dynasties. A lot of Vietnamese Catholics have shed their blood so as to witness their faith. There were about 130,000 people to die as martyrs by a variety of tortures and sufferings.
But "the blood of the martyrs is the seeds of Christians" (Tertullian), the number of Vietnamese Catholics has increased rapidly. And then, the first seminary in Việt Nam was established in 1665, from which the first Vietnamese priests were ordained: Father Joseph Trang (March 1668), Father John Huệ and Father Benedict Hiền (August 1668).
In 1889, the Vietnamese Church was composed of 9 bishops, 219 missionary priests, 356 Vietnamese priests, 930 churches, 1.243 seminarians, 156 catechists, 1.399 religious women, 292 charity establishments, 648,435 lay people [3].
In particular, on 11 June 1933, Fr. John the Baptist Nguyễn Bá Tòng was consecrated as the first Vietnamese bishop at St. Peter Basilica by Pope Pius XI who installed him as the coadjutor bishop of Phát Diệm with the right of succession.
3. From the hierarchy establishment to current time
On November 24, 1960 Pope John XXIII established the Vietnamese Hierachy with Apostolic Constitution "Venerabilium Nostrorum", marking the maturity stage of the Church in Việt Nam.
As for the structure of dioceses, with this Apostolic Constitution, the Catholic Church in Việt Nam was divided into three ecclesiastical provinces: Hà Nội, Huế, and Sài Gòn. At the same time, three new dioceses of Đà Lạt, Mỹ Tho, and Long Xuyên were establihed. It meant that, in 1960:
- The ecclesiastical province Hà Nội included 10 dioceses: Hà Nội, Lạng Sơn, Hải Phòng, Bắc Ninh, Hưng Hóa, Thái Bình, Bùi Chu, Phát Diệm, Thanh Hóa, and Vinh.
- The ecclesiastical province Huế consisted of 4 dioceses: Huế, Qui Nhơn, Nha Trang, and Kontum.
- The ecclesiastical province Sài Gòn included 7 dioceses: Sài Gòn, Đà Lạt, Vĩnh Long, Cần Thơ, Đà Lạt, Mỹ Tho and Long Xuyên.
In 1963, one part of Qui Nhơn diocese's territory was taken out to form Đà Nẵng diocese.
And from Sài Gòn diocese, some new dioceses were created: those of Xuân Lộc and Phú Cường on October 14, 1976; of Ban Mê Thuột on June 22, 1967; and of Phan Thiết on January 30, 1975.
On November 22, 2005, Pope Benedict XVI established Bà Rịa diocese, which was separated from Xuân Lộc diocese. The number of dioceses in Việt Nam now increases up to 26:
- Ecclesiastical province Hà Nội: 10 dioceses.
- Ecclesiastical province Huế: 6 dioceses.
- Ecclesiastical province Sài Gòn: 10 dioceses.
In 1976, the Holy See created Archbishop Joseph Mary Trịnh Như Khuê as the first Vietnamese cardinal. Succeeding him in 1979 was Cardinal Joseph Mary Trịnh Văn Căn, and on 30 October 1994, Cardinal Paul Joseph Phạm Đình Tụng.
On February 21, 2001 Archbishop Nguyễn Văn Thuận, who had been appointed the President of the Pontifical Council for Justice and Peace on 24 June 1998, was created cardinal by Pope John Paul II
On October 21, 2003 Archbishop John Baptist Phạm Minh Mẫn of Ho Chi Minh City Archdiocese was created cardinal by Pope John Paul II.
The maturity of Vietnamese Church was also marked by a large number of witnesses of faith to be canonized:
- On June 19, 1998, at the St. Peter Square, Pope John Paul II solemnly canonized 117 Blessed Martyrs of Việt Nam including 8 bishops, 50 priests, 16 catechists, 01 seminarian, 41 laymen and 01 laywoman. Their feast day is November 24.
- On 16 September 2007, the fifth anniversary of the Cardinal Nguyễn Văn Thuận death, the Roman Catholic Church began the beatification process for him.
On June 18, 2011, Pope Benedict XVI appointed Italian Archbishop Leopoldo Girelli to serve as his non-resident representative for Việt Nam.
At the end of 2011, the local Church had 44 bishops, 4,050 priests, 18,424 religious, 3,946 seminarians and 56,593 catechists serving 6,400,567 Catholics out of a total population of 89,029,559 [4].
---
[1] Secretariat Office of CBCV (2004), Giáo Hội Công Giáo Việt Nam - Niên Giám 2004 (Catholic Church in Việt Nam - Year Book 2004), (Hà Nội: Tôn Giáo Publication, 2004), 183-203.
[2] Paul Nguyen Van Binh Club (2011), Directory of the Catholic Church in Việt Nam, (Hà Nội: Tôn Giáo Publication, 2011), 281-283.
[3] Secretariat Office of CBCV (2004), Giáo Hội Công Giáo Việt Nam - Niên Giám 2004 (Catholic Church in Việt Nam - Year Book 2004), (Hà Nội: Tôn Giáo Publication, 2004), 196.
[4] Documents of Secretariat Office of CBCV (2012)